Infinite Color Landscape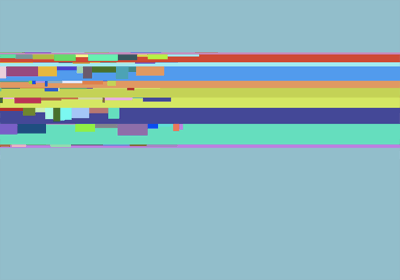 Click here and relax as the work changes every few seconds.
---
This PHP/CSS/HTML artwork is best viewed fullscreen on a browser like Internet Explorer 7 or Opera that has a full screen mode. (IE6 doesn't show the work correctly.) I haven't done much algorithmic computer art since the early '90s, but I've had this particular approach to the infinite possibilities of computer art in my imagination for a couple of years now, and this is the first finished piece. Leave it on screen for a while to see what it does. All the colors are randomly picked from over 16 million shades. The composition is recreated according to the 'time per composition' using random numbers within set boundaries. Each browser is served individually, so each viewer gets a unique series of images.