"Broadway Corners" video premieres at "Raciality"
Broadway Corners
Video loop
TRT 10:37
Video shot on twenty-one of the busiest corners of Broadway, New York City, daytime during July and August, 2015, from the beginning in lower Manhattan to the last stop on the 1 train, Van Cortlandt Park Sation.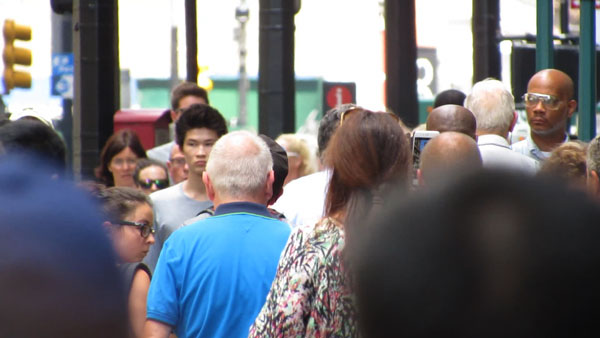 Traditionally wise people learned many things by observing nature — watching the sky to learn the weather, the plants animals to learn about life, the stars to see the Universe. I've used telephoto videography so that you can see only people in these corners, so you can learn whatever you can by observing the people like a river of flesh.
In making the video and visiting the corners I learned that Broadway is a meeting place of the world. Even in the upper reaches there is a diversity of race. I start by assuming that race is a meaningful concept, but the fluidity of the concept is fully illustrated here. On Broadway we see blends of race, and mixtures of the blends.
Your reaction to the individuals, the pairings and the crowds is affected by your own concept of race, but also nationality, class and so on. As you look at the people, what races do you think you see? Can you group them by economic or class advantage, or nationality? New York at present is over 60% first and second generation immigrants, and the City is a top tourist destination, so you see all the nations on Broadway.
Maybe you ignore race -- try to think of it here, for 10 minutes. New Yorkers are used to the profusion of varieties of people, but in much of America, and the world, such diversity is unknown. Don't take it for granted.
There are many corners in New York that would show more contrasting groups from the races of humans, and it would be interesting to make videos and see what they reveal about race in the furthest corners of the city. In this production each corner is represented only by thirty seconds, taken at different arbitrary times. There is so much more to see. But Broadway is the beating heart, watch it move.

---
Raciality
August 14 - September 12, 2015

Gallery Hours: Wednesday - Saturday 1-7 PM
Sunday 1-5 PM and by appointment.


Opening Reception: Friday, August 14, 2015, 6-8 with a Panel Discussion* commencing at 6:30 pm
http://www.galleryonetwentyeight.org/

onetwentyeight is excited to present Raciality.

What is the racial reality of life today?

It does seem to be a different experience if you're black rather than white in this country.

It does seem this way.

But we are just one race - The Human Race.

We speak as if we are all different races - black, white, red, yellow, brown. Yet, these are mostly social constructs, artificial creations that keep us divided.

What if we were among a race of alien beings("uchujin")? What is some day we find ourselves in touch with beings from different universes and different realities?

How would we explain ourselves?

First, we would identify as human, no?

Regardless of the color of our skin.

And the reason it is so hard for many to do that today?

Raciality.

Todd Ayoung - Orin Buck - Christopher Craig - Cheryl Edwards - David Fenn
David Higginbotham & Aya Kawano - David Hammons - Gerald Jackson
Helmut Krackie - Ayakoh F. Leonart - Jennifer Mack - Al Mack - Ptah Miller
Kazuko Miyamoto - NeNe - Miguelangel Ruiz - Sandy Strauss - K. Saito - Glen Sacks
Gordon Sasaki - Angela Valeria - Ricard Woo - Susan Yung - Bobby Watlington


*Panelists: Yarrow Dunham, Professor - Department of Psychology, Yale, CT
Cheryl Edwards - Artist, Washington D.C.
David Higginbotham - Artist, NYC
Robert Lee - Exec. Director/Curator, Asian American Arts Centre, NYC


128 Rivington St.
(bet. Essex & Norfolk)
NYC, NY 10002
212 674 0244
---
Broadway Corners was also screened at the 2015 Chicago Calling:
CHICAGO CALLING: MOVE / REMOVE // PLACE / DISPLACE
October 10, 2015
High Concept Labs
2233 S Throop St, Chicago, IL 60608, USA