Street Level – Video Projections for Sensorium Saxophone Orchestra
The original video is 2 minutes shot in 60i HD with a Sony NEX5n placed on the sidewalk at the corner of Fifth Ave. and 42nd St. on a regular weekday. I applied linear symmetry and various overlays and speeds. The challenge was looking good ending at whatever time the "In C" improvisation ended.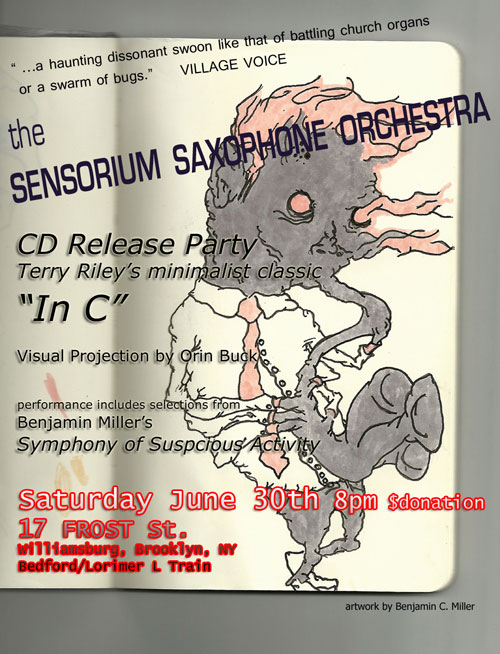 THIS Saturday June 30th 8pm doors / $donation
The Sensorium Saxophone Orchestra: "IN C" CD release party on Living Records. The S.S.O. will perform revised movements from Benjamin Miller's "Symphony of Suspicious Activity" ending their set with Terry Riley's minimalist classic "In C". 3-walled visual projections by NYC visual artist Orin Buck. 17 FROST Gallery is at 17 Frost St. @ Union Ave., Williamsburg, Brooklyn, NY.
Take the L Train to Bedford or Lorimer
The Sensorium Saxophone Orchestra
Benjamin Miller composer, conductor, c-tenor
Kevin Gosa soprano
Gerald Thomas soprano
Daniel Dorrance alto
Ryan Weisheit alto
Chris Aeillo alto
James Elmore III tenor
Chris Bacas tenor
Adam Ramsay tenor
Kyle Saulnier baritone
Brian Landrus bass
Jarrod Ruby drums
http://www.benmiller.info/bmi_upcoming_shows.html