Light Dreams @ Monkey Town
Electronic Music Foundation presents Light Dreams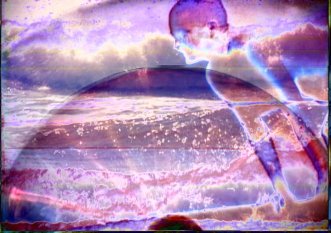 still from Light Dreams 4, "Venus Sits Again," Orin Buck
Visiting Japanese composer/sound poet and NYC trio improvise to video art using electronically-processed traditional, handmade and found instruments.
The Light Dreams series by Orin Buck, begun with a series of computer graphic "video paintings" in 1988, uses video to extend 2D art traditions with the added dimensions of time and sound. Pieces are meant to be viewed as paintings which change, either continuously, frame by frame, or at set intervals of seconds. This event brings together many of the pieces for the first time in two channel versions, and will include premiere showings.
The show opens with the Parkins/Miller/Loriot trio improvising to a program drawn from Light Dreams 4 and 5, and other short videos including "From Black" and "The Conception of God."
Tomomi Adachi will present several of his own voice performance pieces with real time signal processing and self-made instruments improvisation. After that he will improvise with Buck's video art, which will be programmed live in interaction with Adachi's performance. Video will be a mix of new algorithmically generated works using photography, video and computer graphics related to the Light Dreams concept.
58 N 3rd St
Williamsburg, Brooklyn NY (
map
)
(between Kent & Wythe, 7 blocks from the Bedford Ave. stop on the L train)
718.384.1369
Full service restaurant,
reservations recommended
Minimum $10; Electronic Music Foundation members $5
Thursday, January 7, 2010
8pm – 10pm (doors 7:30pm)
There is a later show, so this one will start promptly.
About the Artists

Orin Buck : video
http://www.orinbuck.com
Orin Buck is a New York City-based artist working in videography, photography, computer art, painting, drawing and music. His video work relates to the interests of contemporary visual art. It utilizes techniques such as algorithmic visual composition using random numbers, slow motion, time reversal, and layering to present a dense experience that is both sensual and repeatable. He is also working with
point symmetry
in video and photography, continuing an interest that began with his hard edged geometric art. New Internet-based algorithmic compositions utilizing PHP and CSS are published on orinbuck.com. Recent shows include
Drunken Boat #10
, Williamsburg Art & Historical Center and Haven Arts Gallery.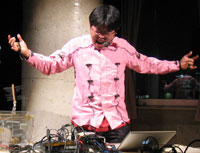 Tomomi Adachi : voice, electronics and self-made instruments
http://www.adachitomomi.com
Tomomi is a performer/composer, sound poet, performance and installation artist living in Japan. Known for his versatile style, he has performed improvised music and contemporary music (works by John Cage, Cornelius Cardew, Dieter Schnebel, etc.) in Japan, Europe, United States, Australia, Canada, Korea and China. As the only Japanese performer of sound poetry, he performed Kurt Schwitters's "Ursonate" for its Japan premiere in 1996. Also he directed the Japanese premiere of John Cage's "Europera5" in 2007. CDs include the solo album
sparkling materialism
(naya records), and Adachi Tomomi Royal Chorus
yo
(Tzadik). Also his video works and kinetic installations are shown in Europe and Japan. Recently he has been focusing his activities on solo performance (with voice, sensors, computer, self-made instruments), sound poetry (especially to the unknown Japanese sound poetry tradition), video installation and workshop style big ensemble with non-professional voice and instruments. He is staying in New York through the Asian Cultural Council fellowship program.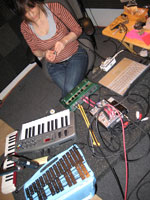 Andrea Parkins : objects, electronics
http://www.myspace.com/andreaparkins
Andrea Parkins is a NYC-based composer, sound/installation artist, and electro-instrumentalist, acclaimed for her highly gestural/textural approach with her electronically-processed accordion and customized live sound processing. Her work includes solo interactive sound/image works that emphasize tenuous states and fragile systems coming apart. Andrea has collaborated with David Watson, Steven Vitiello and many others, and in 2009 released her latest CD, faulty (broken orbit), on Important Records. Andrea's work has been presented in NYC at the Whitney Museum of American Art, The Kitchen, Diapason and Experimental Intermedia, and
internationally
at music and sound festivals and venues
.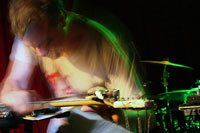 Ben Miller : multiphonic guitar, radio, tapes, electronics
http://www.myspace.com/benmillerdegeneration
Performing under the name degeneration since 2000, Miller produces a cacophonic, texturous, multiphonic soundscape with a deconstructed electric guitar modified to stereo with multiple pickups. His 40 year career includes guitar in Sproton Layer (1969-71 w/brothers Roger Miller of Mission of Burma and Laurence of Empool.) and alto sax in the art-punk band Destroy All Monsters (77-78; featuring the late Ron Asheton from The Stooges and Michael Davis from The MC5). Other current NYC-based projects include Thirdborder songwriter/guitar/vocal (Radial Records) and The Sensorium Saxophone Orchestra (a 14-member ensemble) as composer/conductor.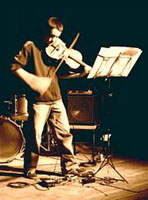 Frantz Loriot : viola, objects, piezo, effects set, tapes
http://www.myspace.com/frantzloriotmusic
Brooklyn-based French violist/violinist F.L. performs solo as well as in various ensembles, ranging from rock to contemporary music by way of improvisation and electronics. He contributes to multidisciplinary projects connected to poetry, cinema, theater and dance. He has performed in various venues in New York and Europe, and appears on numerous CDs, including 2009's
Les érotiques,
EPM, and
Asozial
, Le Pélican Frisé.
--